We live here in Denver, Colorado, which isn't too far from Mexico but still far enough north that we think hail is something that should not be happening south of the border. But as we all saw on TV a little more than a week ago–it did. Here in Colorado, we are more familiar with the weather patterns that mean places like East Denver, Aurora, Parker, and Brighton get slammed with hail from late spring through summer, but what happened that made more than 5 feet of hail pile up in Guadalajara?
The Freak Hail Storm In Guadalajara
Guadalajara has one of Mexico's largest population and all 5 million residents were shocked June 30th when the temperatures suddenly plummeted and hail storm of epic proportions hit the city. In fact, in a little less than an hour, massive piles of hail had piled up over some people's head. Although thankfully, no one was hurt, there were some reports of mild hypothermia early one. This isn't the first hail storm in Guadalajara that sits at just under a mile high in elevation. What caused this one that dumped nearly 5 feet of hail so fast?
The Science Behind The Hail Phenomenon in Mexico
Hail is something that typically happens during thunderstorms when updrafts carry warm, moist air up to a freezing level in the atmosphere and condense it. Then hailstones grow as additional water in the high elevation and cooler temperatures freeze onto it and eventually, the heavy hailstones fall to the ground. If this sounds familiar that is because Denver in spring and summer, with copious warm air and sitting at an already high elevation is perfect for this cycle to perpetuate. Guadalajara is similar in so it does get some hail.
But why so much hail and all at once?
In Guadalajara, which has temperatures nearing 90 in June, more moisture is available, contributing to hailstorms.
Accuweather meteorologist James Andrews explains
"What's special about this, is the intensity of the storm and the huge amount of hail that it brought,"
He goes one to explain.
"If you have intense hail falling along with rain and it's happening in the same place for an extended length of time, you're going to get tremendous runoff. A combination of water and hail moved downslope, because of the local topography, and obstacles, like buildings, likely blocked the flow of hail, allowing more ice to accumulate on top. Hail depth from the storm [alone] couldn't have been that strong. That great depth could be accounted for that the hail was running off-street like in a flash flood and accumulated in a low spot."
So essentially it was a coincidence of the local layout, a lot of moisture and what could be explained as a "flash flood" of hail.
Watch the video below to see how high the hail was in some parts!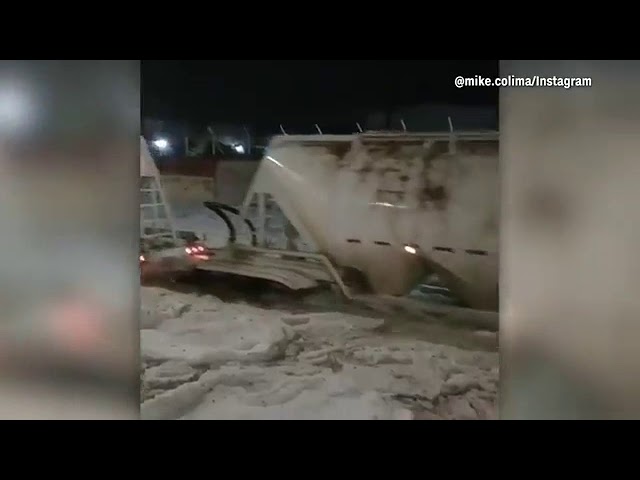 So there you have it–a perfect storm–for hail. Something you are likely used to seeing to a lesser degree here in Denver. To that end, when you do see hail in Denver and need repairs, contact us at United Hail Pros to get your car back to beautiful fast and through insurance!
Don't Waste Your Time! Contact Professionals Today
Get your free assessment now